ZJ Filter Press Feeding Pump
Short Description:
Features and Application ZJ series slurry pump is designed by our plant, which is a kind of single stage, end suction, centrifugal type pump. The wet part is made of high chrome white iron and has hig...
FOB Price: US $ 1600-7500 / Piece
Mini. Order: 1 Piece
Supply Capacity: 5000 Pieces per Year
Payment Term: L/C, T/T, D/P, Western Union, Money Gram
Port: HeBei
Certificate: ISO9001, SGS, CE
Features and Application
ZJ series slurry pump is designed by our plant, which is a kind of single stage, end suction, centrifugal type pump. The wet part is made of high chrome white iron and has high performance in anti-abrasive, anti-corrosive, anti-shock aspect. This can give pump longer life and economic cost performance. This kind of pump can be divided into two kinds by structure: horizontal (ZJ series ) and vertical (ZJL series ). For the horizontal version, the discharge diameter can range from 350mm、300mm、250mm、200mm、150mm、100mm、80mm、65mm、50mm、40mm ,etc. For different head, we can choose different impeller to suit or satisfy the head by cutting the impeller. This kind of pump now is widely used in power plant, metallurgy industry, coal washing industry, building industry and chemical industry. Mainly used to transport the abrasive slurry, for example: the concentrate and tail slurry in ore dressing plant, slag handling in power plant, coal mud transportation and heavy medium coal separation, sand transportation in the shore work etc. The max weight concentration of slurry which can process is: 45% mortar slurry, 60% mining slurry. For transmission type, we can use DC, V belt, hydraulic coupling, frequency speed adjusting. This kind of pump also can be used in series or in parallel working together.
Structural Drawing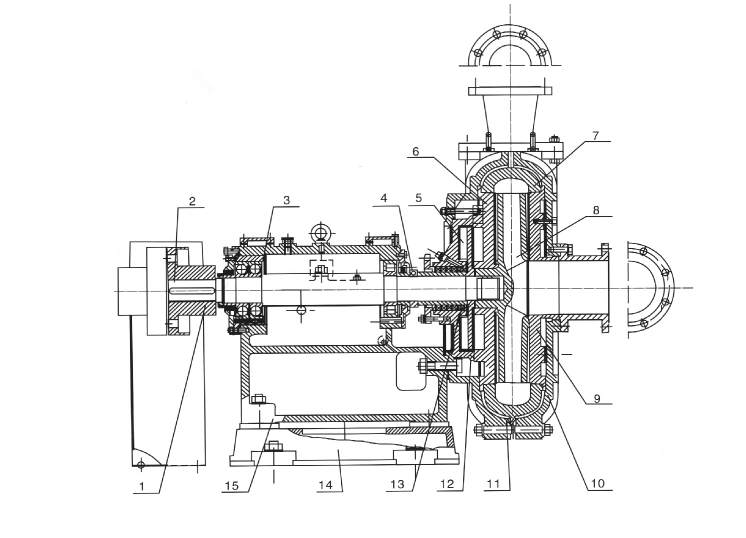 Coupling 6. Frame Plate Liner Insert 11. Frame Plate
Shaft 7. Volute Liner 12. Stuffing Box
Bearing Housing 8. Impeller 13. Lantern Ring
Disassembly Ring 9. Troatbushing 14. Base
Expeller 10. Cover Plate 15. Support
Technical Parameters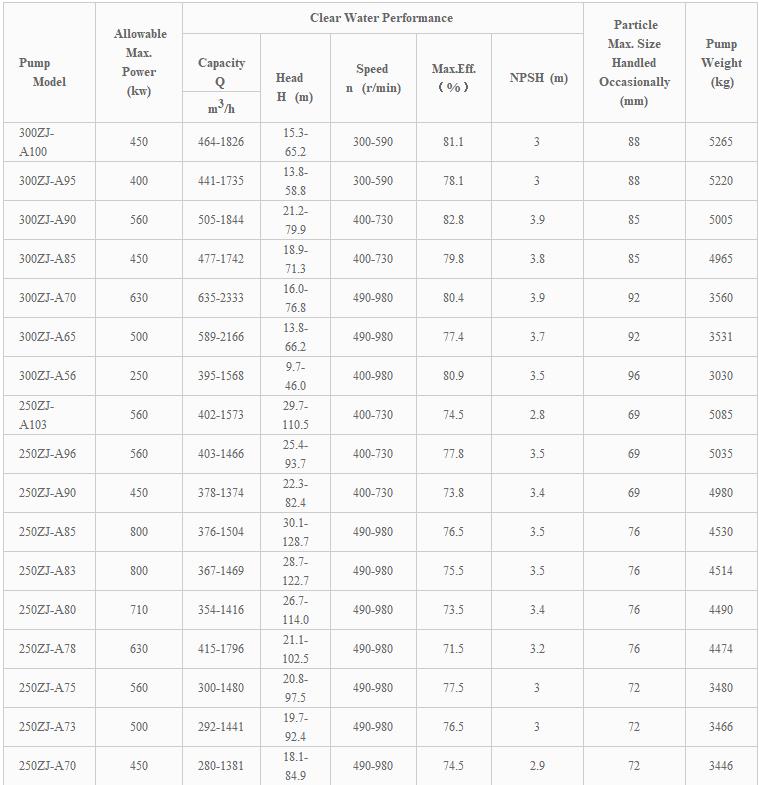 Seal type
This kind of ZJ pump can be assembled with two kind of seal type:
(1) Expeller and stuffing box combined seal : Expeller seal make use of the pressure which is caused by the impeller and expeller working together to seal. Packing and lip seal do as the parking sealing. We can use this kind of seal in the single stage pump of which the positive pressure in the suction is not bigger with 10% than that in the discharge, or used in the first stage pump in series condition. It can work without the seal water, will not dilution the slurry and sealing performance good. But this can lead to more power consumption (usually need increase 5% of the shaft power).
(2) Stuffing box packing seal is a kind of popular shaft seal type and used in all kind of applications, seal material can be PTFE and graphite which can be used in corrosive and high temperature conditions. This seal type has advantage of simple structure and easy maintenance.
(3) Mechanical seal : this kind of seal adopt the international advanced sealing technology and has good sealing performance. Different structure type can suit different working condition, friction auxiliary material is made of high hardness ceramic and alloy material. The design and cooperation between mechanical seal and seal box conform to the flow status of medium which makes seal performance higher capability in anti-resistant and anti-shock, which can make customer satisfied in all kind of working condition.
Pump design Features
•Use of inner and outer double layer metal structure.
•Casing middle split vertically.
•Discharge port can be positioned at 8 different positions at an interval of 45°.
Depending on design of bearing housing, bearing lubrication can be :
•Thin oil lubrication for box type.
•Grease lubrication for cylinder type.
•Thin oil or grease lubrication for bearing housing with inserted cover.
Impeller
•Closed type Impeller: high abrasive resistance, and high efficiency.
•Open type Impeller: the ability of pass is high. When deliver the dirty material, the pump need clear often, this type makes the clear work easily.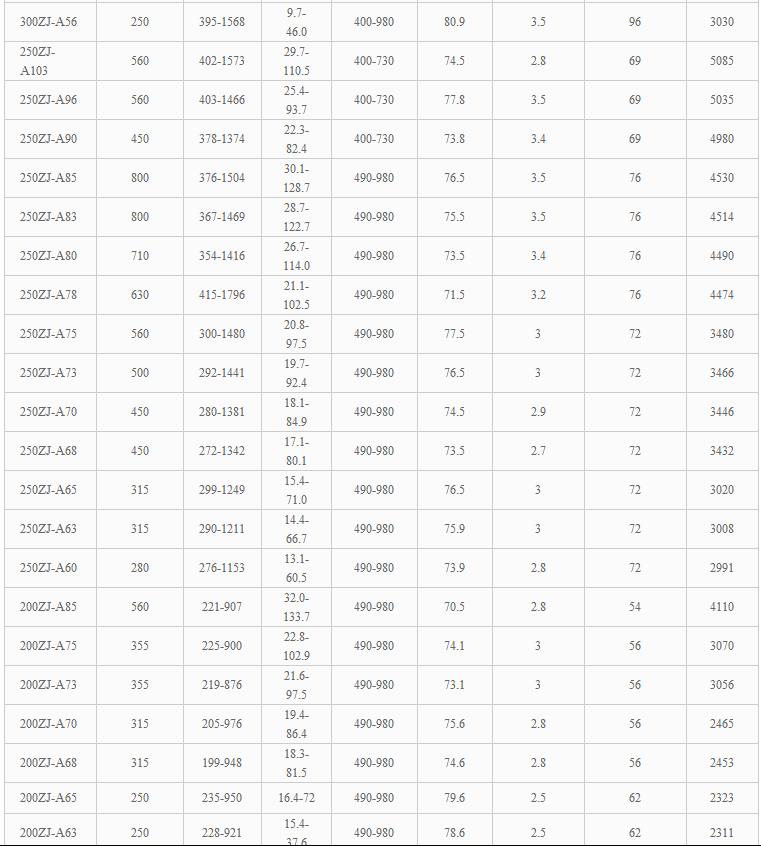 ---
Previous:
M Metal Slurry Pump
---